12.3.05
I picked this movie up for two reasons. Firstly, I liked the Lynne Ramsey's previous directorial work, Ratcatcher. Secondly, It has Samantha Morton in it.

I loved her in
Code 46.
The flick that blew my mind is called
Morvern Callar
. Do yourself a favor, and check it out. PAY ATTENTION.
11.3.05
I wish I had known about this before the Feast of Lupercalia
Here's a funny commercial. Turn your speakers up, because the music is just that good.

For KRS-10... Daria Porn(NSFW)

This Crazy Lady is talking Crazy

I wish I had Photoshop Pubic Hair Brushes.


This is the first picture that came up when I googled smut.

This isn't really smut, but it definitely has that whole corruption of the innocent vibe... I thought teachers were cool for letting us have class outside on nice days.

I think it's a good look.


Rosie O'Donnell has a blog.

I just heard an interview with the director of the Deep Throat documentary, and he was talking about how, when originally released, the NYTimes had graphic descriptions of the film. Now, The Times won't even publish a picture of the lips on the Documentary's poster.... Progress

I stumbled across a stack of pictures from the 50's in my friend's antique store. They showed this guy who was a real-deal world traveler, serious Indiana Jones style. He was in Africa, the Middle East, China... just all over. The pictures were bought at an estate sale. I'll never find out who the hero was. It got me thinking about old pictures, so I started collecting them. I'm focusing on pictures of couples, because seeing young people in love from half a century ago makes it even more bittersweet...



I was taking my daily cruise through Jewish Feminist Menopausal Painting sites, and found this.


It's called "Birthing the Crone."

Groucho sings.

Based on the New Star Wars Trailer, I almost feel as if Lucas can pull up before impact.

Just Because I got some Puffy A-Team stickers off of eBay.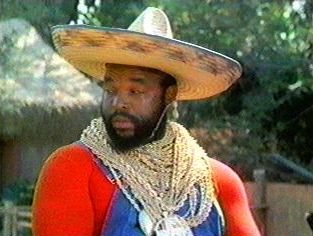 Oh Robin! What have I done?
10.3.05
Who knew he could rap?





More pigwin for KRS-10.

Bow Down to the Great Kat. The DVD is already on its way to me...

Other people's mail:Here & Here.

SIN CITY is going to own all y'all asses.

50 Cent is so cool!

Beyonce v. J. Lo

Pre-War Blues to peruse

Lastly, The Boys are Back in Town on Ukelele
My little sister came home from juvenile correctional facility for christmas. Instead of being really into Gangsta Rap, she was now really into, like, Native American Religions and stuff.

Russian Tom Waits Site HERE. I recommend the Warsaw show.(Thanks, GoLd)

Buy yourself an easter basket and hide it when you're drunk, you drunk.