Well, let's hope everything goes smoothly from here on out. It was really touching that some of the F.O.R.T.P got all spazzy-kitty when I quit posting. Well, fear no more, My Spazzy Cats & Kitties...
And now,
The Smut
that you've come to expect... Who wants to be safe for work, anyhow?
I've been listening to the new The White Stripes' album lately. The best song has a
video
. I like it, but I usually am fairly keen on their video presentations...
The Company I work for just got sold, and the new owners know how to make a guy feel...
They actually had me empty the warehouse inorder to sweep underneath the dirty boxes of furnaces, water heaters, and White Amish Babies... and they're classy, too. Enough of that Amish Country drag that my life has become over the last few... well, since I moved here a year ago.
Now, ometimes I wonder what I learned in College. I've got my Social Security # memorized.
This Guy
took advantage of the opportunities for enlightenment more fully than yours truly. Lot of miles between me and those days... Well, not a lot lot.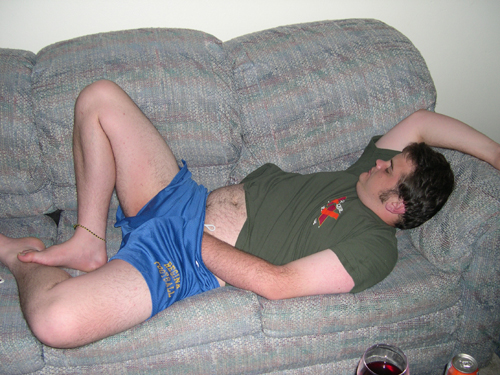 If I'd have known that I was going to have my
Picture Taken..
About... Fucking... Time!!!
I really truly must have...
Soooo... I've been trying to get in shape.
If anyone has ever had the right to throw a completed Rubik's Cube on the floor, and shout, unironically, "Fuck Yeah!", then it's
this chap...
How 'bout we spread some fresh Swayze on this muffin?
He already has the look of a true
Bouncer/Philosopher
... Say it with me...
He just drops the most brilliant exigeses in this flick, and in life. In fact, the Swayze has given me my own personal motto, of late...
True... true. Remember kids,
Jesus is Magic!
Maybe I'm partial to Sarah Silverman because she reminds me of
my favorite Canadian Blogorita
, or vicey-versey.
I'm off to tell the dogs in my hood whose house this is... (yeah, that's Casey Affleck on his 30th Birthday)